DAVID JASON was in colditz for a few days in early june 2011 making a documentary on the great escapes. He visited zagan and colditz and has reviewed the films and the stories that inspired them. The series has been shown on ITV3.



PETER CHAMP the son of author Jack Champ of 'Diggers of Colditz' fame, was also in colditz for a few days. He stayed at the Alte stadtmauer and relayed to Ralph some stories his father had told him.

Peter went to Eichstatt where his father was imprisoned in the prison building. It is now a police headquarters and not open to general public, though he was given a special tour to where his father had been held.



EICHSTATT was rebuilt in the baroque style following its destruction in the 1600's.

the oldest buildings in the town are the cathedral, treasury and diocesan museum.

Guided tours of the bishops residence and to a former monastery.

In the east of the town the Church of the Holy Cross and Holy Grave houses a copy of the holy sepulcher.



LEIPZIG was one of the first destinations of Airey Neave and Toni Luteyn during their escape from Colditz. It also has some stunning architecture, museums and places to visit. It later became a target for heavy allied bombing and Peter Tunstall was court martialled their in early 1945.



Windfall Films 2 executives from Windfall Films were in Colditz for three days in July 2011. The company have made many top class documentaries for all the popular channels. A further documentary on Colditz is forthcoming. Details of one of these on the Dambusters can be viewed by clicking the link here:Windfall Films.



Wildfire Films were in Sagan filming the excavation of the tunnels of the great escape. George was excavated in August 2011 and further info on the dig can be found by clicking the link George.



The following information is taken from an article that appeared in the Telegraph on 10 Feb 2012.



Channel 4 are to show a new documentary about the plan to send a glider built by British prisoners from Colditz castle.

The original glider was still under construction when the castle was liberated in 1945.

This documentary will see the construction of a full size glider that will be launched from the roof of the castle but will have a dummy as a pilot and be under radio control.

Windfall Films were in Colditz mid March 2012 and the documentary was shown in the summer. The picture below shows the start of the construction of the launch ramp on top of the castle.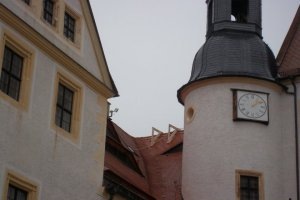 Windfall Films team launched the glider at 14:30 C.E.T with spectators looking on from the road bridge over the river Mulde. The full size model flew over the river and had a rather disasterous landing on the green beside the river overlooked by the castle. It had lost it wings in a crash landing. Now the castle has a second glider hopefully this one may stay in Colditz.



For an account from The Sunday Times 18th March 2012 click on the link below:

www.thesundaytimes.co.uk/sto/public/sitesearch.do?querystring=colditz+glider&sectionId=2&p=sto&bl=on&pf=all


The 273rd infantry unit marched to Colditz and beyond. An account of their journey and the liberation of Colditz can be found by clicking the link below:



http://www.69th-infantry-division.com/histories/273.html

273rd Infantry Regiment


For an account and picture gallery of the glider flight (in German only) click on the link below:

www.lvz-online.de/region/grimma/65-jahre-nach-ende-des-krieges-britisches-filmteam-laesst-colditz-gleiter-abheben/r-grimma-a-129630.html



To see a video clip of the flight click on the link below:

www.youtube.com/watch?v=nSHugyLm8u4



For videos on all aspects of Colditz (in German only) click on the link below and search (suche) for Colditz:

www.mdr.de/sachsenspiegel/index.html



Tony Hoskins see www.thegliderworkshop.co.uk of Windfall glider fame has donated a replica of the glider flown from Colditz Castle to the Lasham www.glidingheritage.org.uk Museum.



Other Museums:

www.flugwelt-altenburg-nobitz.de

www.glidingheritage.org.uk



Travel Links:

www.ba.com

www.easyjet.com

www.poferries.com

www.ryanair.com



POW Links:

http://www.colditzappreciationsociety.com

http://www.elsham.pwp.blueyonder.co.uk/gt_esc/index.html

www.colditzcastle.net

www.berlin.de/english

www.schlosscolditz.com

http://www.edencamp.co.uk

Check what others see on your website and increase your traffic:

www.internetmarketingninjas.com/seo-tools/free-optimization/

For further information:



Manager Ralf Gorny

Tel. 0049 (0) 34381 53363

e-mail: ralgy@web.de

Website mailto:m.dawkins@virgin.net








Last update: 06/11/2016 Colditztravel.com ©2005